For us, good food is one of the most important aspects of any ski holiday. We know that a tasty and filling meal is paramount after a day in the snow.
Each evening our professional chef creates a wonderful feast and the menu changes from season to season, all our meals are freshly prepared, our eggs are free range and we source produce locally where possible.
Many chalets can now only offer dinner on 5 evenings. Because we are owner run and also work in the chalet, we are able to provide our guests with dinner on 6 evenings.
Chalet Breakfast
Our breakfasts are the perfect way to wake up to a day on the slopes! On offer are freshly baked organic loaves, baguettes, croissants, pain au chocolate and Danish pastries, as well as cereals, jams, yogurts and porridge.
There is also a hot option of pancakes or eggs made any way you like, along with a selection of teas, arabica coffee, hot chocolate and juices. On the chef's mornings off, everything is laid out for you and there is a machine to boil eggs.
Afternoon Tea
Back inside after a long day on the mountain and you'll be welcomed with a delicious freshly baked cake, shortbread, brownies, scones or cookies. And to wash it down there is coffee, hot chocolate and a variety of teas and cordials.
Chalet Dinner
To end your day with family and friends, you'll enjoy a hearty and delicious three-course evening meal with complimentary wine at your table. Children can either eat at the same time as the adults, or opt for a slightly earlier dinner.
Our menu is carefully chosen to ensure all meals are wholesome, hearty and satisfying. It looks great and tastes delicious.
We cater six nights during your stay, which gives you the opportunity to sample the local cuisine at a nearby restaurant (at your own cost). There is a restaurant within walking distance from the chalet which is good value.  Otherwise we can make alternative recommendations and arrange transport for the chef's night off.
Children's Meals
Children will enjoy tasty but healthy meals at an earlier time to suit you. All children's meals are freshly made and you can discuss any dietary preferences with the chef at the beginning of the week.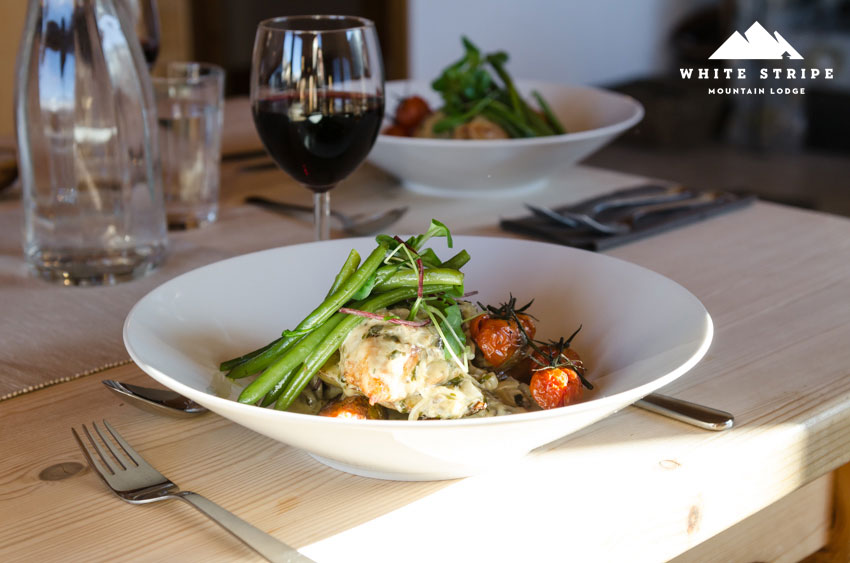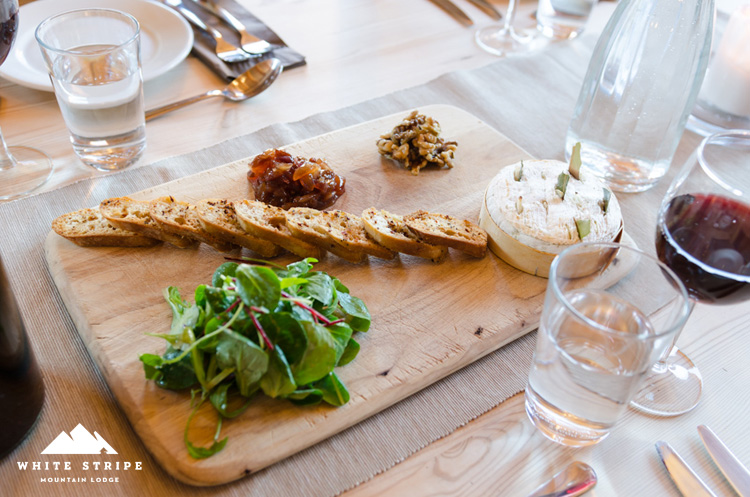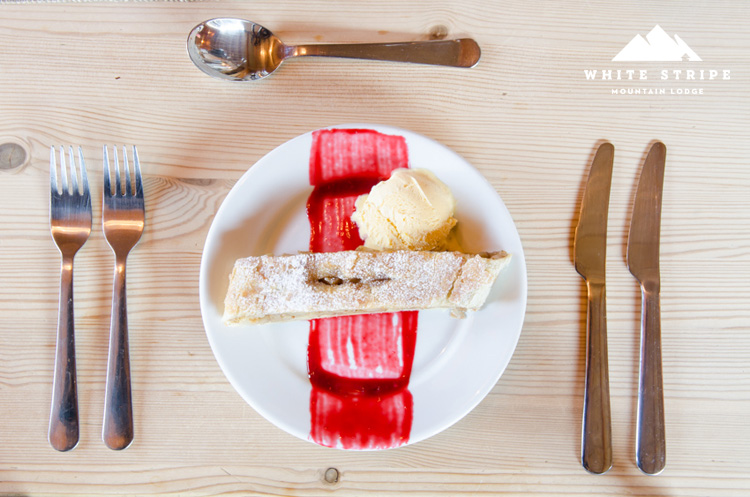 Dietary Requirements
We can cater for most dietary requirements, including vegan, vegetarian, gluten free and simple allergies. Please let us know when booking and we'll do our utmost to provide delicious meals to suit your needs.
Late Arrivals / Early Departures
For any planned late arrivals (after 9 PM) we will ensure that a simplified dinner is ready for you. Usually a main course will be left warming and a cold desert will be available. If you are delayed we will discuss with you at the time what you want to do.
Anyone needing breakfast before 7am on departure day will have everything left out for them, similar to the chef's morning off.
Drinks
On arrival you will be served bubbly and canapés.
Wine is served during the evening meals. Our wine is of good quality but for environmental and practical reasons we request it from the wine merchant packed in boxes rather than bottles. We don't serve beer but guests are welcome to bring their own drinks.