Summer Catered Service in Peisey-Vallandry
Our summer catered offering is available on request and is popular with mountain and road bikers. But it's not just for those with depleted energy reserves and would suit anyone who fancies having a delicious 3 course meal served to them each evening. Or anyone with an aversion to shopping or washing up.
In summer the living area extends out to the large terrace with the hot tub and sun loungers, perfect for relaxing with a cold drink.
The ski lifts are open July and August for bikers and hikers and there are plenty of other summer activities.
Usually we require a minimum of 10 guests and can offer discounts if there are more than 10.
We may also be able to run a catered service before July or after August depending on numbers, so please enquire.
For those here for biking, there is a large room in the basement to keep your bikes secure. There is also a hose outside to wash the bikes down.
The price includes linen and towels and use of the hot tub, gym and sauna. Breakfast, afternoon tea and dinner are included on 6 out of 7 nights.
Breakfast
Our breakfasts are the perfect way to wake up to a day in the mountains! On offer are freshly baked organic bread loafs, baguettes and croissants as well as cereals, jams, yogurts and porridge.
There is also a hot option of pancakes or eggs made any way you like, along with a selection of teas, arabica coffee, hot chocolate and juices. On the chef's mornings off, everything is laid out for you and there is a machine to boil eggs.
Afternoon Tea
Back inside after a long day on the mountain and you'll be welcomed with a delicious freshly baked cake, shortbread, brownies, scones or cookies. And to wash it down there is coffee, hot chocolate and a variety of teas and cordials.
Dinner
To end your day with family and friends, you'll enjoy a hearty and delicious three-course evening meal with complimentary wine at your table. Children can either eat at the same time as the adults, or opt for a slightly earlier dinner.
Our menu is carefully chosen to ensure all meals are wholesome, hearty and satisfying. It looks great and tastes delicious.
We cater six nights during your stay, which gives you the opportunity to sample the local cuisine at a nearby restaurant (at your own cost). There is a restaurant within walking distance from the chalet which is good value.  Otherwise we can make alternative recommendations and arrange transport for the chef's night off.
Children's Meals
Children will enjoy tasty but healthy meals at an earlier time to suit you. All children's meals are freshly made and you can discuss with the chef at the beginning of the week any dietary preferences.
Drinks
On arrival you will be served bubbly and canapés.
Wine is served during the evening meals. Our wine is of good quality but for environmental and practical reasons we request it from the wine merchant packed in boxes rather than bottles.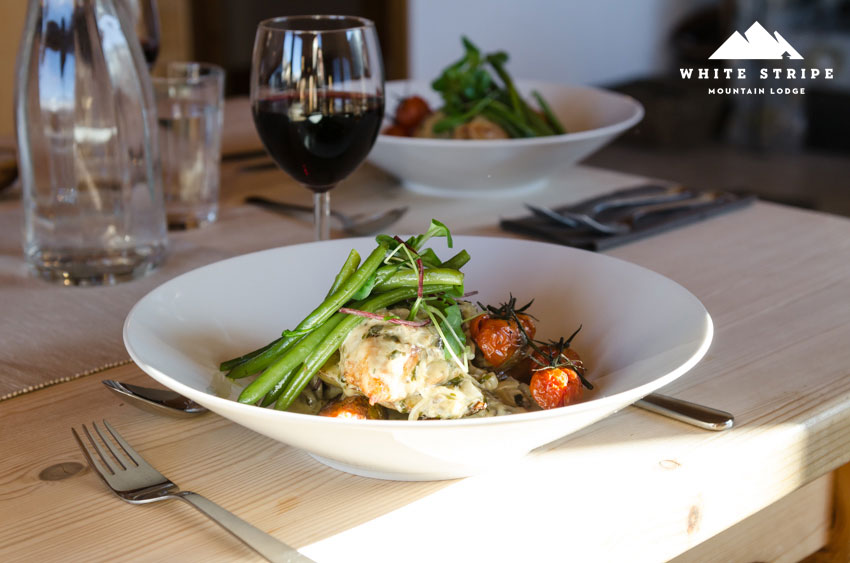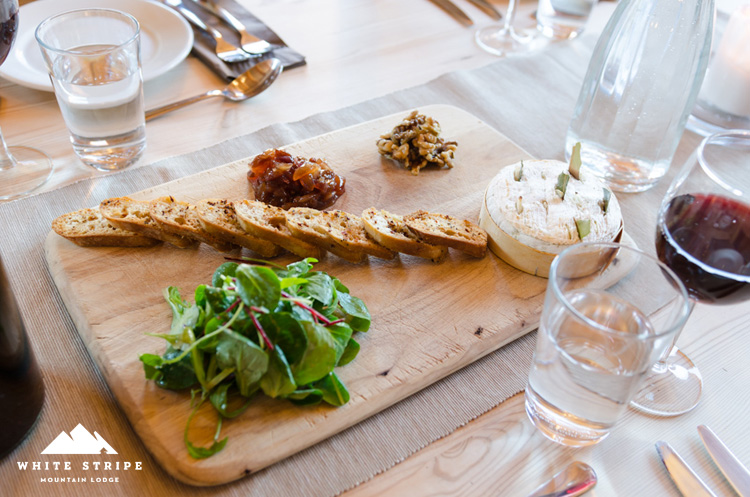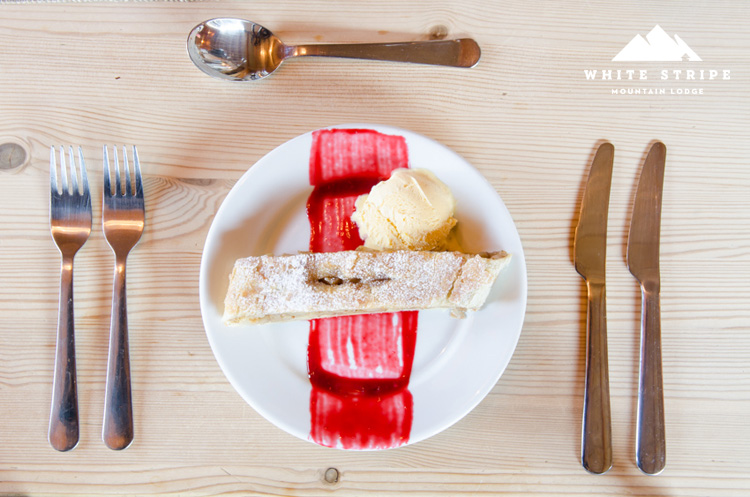 Dietary Requirements
We can cater for most dietary requirements, including vegan, vegetarian, gluten free and simple allergies. Please let us know when booking and we'll do our utmost to provide delicious meals to suit your needs.
Late Arrivals / Early Departures
For any planned late arrivals (after 9pm) we will ensure that a simplified dinner is ready for you. Usually a main course will be left warming and a cold desert will be available. If you are delayed we will discuss with you at the time what you want to do. Anyone needing breakfast before 7am on a departure day will have everything left out ready for them, similar to the chef's morning off.